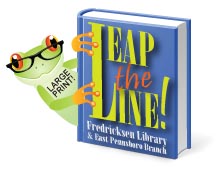 Leap the Line LARGE PRINT(LP)!
Bonnie Goble, Fredricksen Director
Fredricksen / East Pennsboro Branch's new program Leap the Line has proven to be a favorite. In this program, a patron donates $10 (tax-deductible) to the library. In return, the library purchases an additional copy of any item which is on hold. The donor is the first to borrow the item, which goes out for twice the normal borrowing period. If it's a book, it goes out for 4 weeks. If it's a DVD, it goes out for 2 weeks.

When the item is returned, it goes into the regular collection and is used for other borrowers' holds. The Leap the Line donor has thereby provided an additional copy for other borrowers, which shortens the holds line for all other borrowers.

Due to the thoughtful questions of a Leap the Line donor, Leap the Line Large Print (LP) has launched! (Please note, in honor of the add-on program, our Froggie mascot is now sporting sophisticated reading glasses.) This is how the new program works. A donor for Leap the Line LP makes a donation of $20. Large print books are more expensive, by far, than regular print books. The large print book is purchased, and the donor borrows it first. When the book is returned to the library, it goes into the regular large print collection, thus benefitting many other borrowers who prefer large print materials. The donation again benefits others who have the large print item on reserve, by making available an additional copy of the book.

Leap the Line has already made possible the addition of many copies of high-demand books and DVDs. Now the library's large print collections will also benefit. Please consider participating in this unique program. Your donation initiates purchase of an additional copy of a high-demand item, and your donation in turn helps to shorten that holds line for others. Win-win, and now large print is included.


Thank You Mr. Craumer!
As a thank you to Mr. Craumer, who has sponsored the Writer's Workshop for the past 8 years as a memorial to his late wife, Natalie, the current class presented him with an original painting by Mr. Pineda. The painting depicts themes from great literature and is signed on the back by all class participants and Ms. Stewart, the workshop leader since its inception. In 2010, Mr. Craumer's generosity also made it possible for Fredricksen to buy 46 new books on creative writing for our collection.
DOWNLOAD a list of the Creative Writing books recently added.
Pictured left to right: Ann Stewart, Robert Craumer and Ramon Pineda

Congratulations to John Paul Heil, Dev Patel & all of our
Graduating Senior Volunteers!
The Fredricksen Library and East Pennsboro Branch Library would like to congratulate our 16 graduating high school volunteers: Ben Fake, Jen Fang, Nick Gassaway, Brooke Goldiner, John-Paul Heil, Nick Lehotsky, Janice Lugaro, Brianna Marshall, Elizabeth Nace, Linh Nguyen, Dev Patel, Evan Pursel, Ameer Qarooni, Brian Quigley, Thomas Rivera & Nick Tschinkel.
John Paul Heil and Dev Patel, two of our volunteers were selected in The Patriot News; Best and Brightest. Read More HERE


Tell us what you think...
Now...an easy link on on homepage for your Suggestions, Ideas & Questions!
Have a suggestion for an Adult, Children's or Teen program? Have a comment or question on our facility, computer equipment or services? Try the link on our homepage, or below to tell us what you think. All emails go directly to Bonnie Goble, Fredricksen Library Director.
Try it Now!


June Exhibits @ Fredricksen Library
Front Lobby Display Case June Exhibit
The Fayum Portraits – Do you know these faces?
The Fayum Portraits are Greek and Roman paintings done in the encaustic style (from enkaio "to burn-in" ) on wood, and are a part of the Egyptian culture (funeral portraits). Read more

Community Gallery June Exhibit
Exhibition Senior Painting Students of Barbara Passeri-Warfel Read more