Coming in September!
Bee Local @ Fredricksen:
A Honey & Local Foods Festival!
Bee Local @ Fredricksen is the Library's first annual honey and local foods festival. Planned for September, National Honeybee Month, the Library hopes to raise awareness of the importance of bees to our community and environment, the benefits of beekeeping and backyard gardening, and the critical role both play in our local agriculture and food industries. Join us Friday, September 16, at 7 pm as we kick off the festival with the regional premiere of the film Queen of the Sun: What are the Bees Telling Us? This vivid documentary on the global bee crisis has won 10 film festival awards and the New York Times Critic's Pick for movies.
See the movie trailer HERE

Saturday, September 17, the festival will highlight sources of local, fresh, sustainable foods and honey, pollinator-friendly gardening techniques and beekeeping.
Speakers on Saturday will cover various topics including:
• Beginning beekeeping
• The ABCs of CSAs (Community Supported Agriculture) presented by South Central PA Buy Fresh Buy Local with panel members from Yeehaw Farm, Sunnyside Farm, North Mountain Pastures, Joshua Farm, and Jade Family Farm
• Gardening for Native Pollinators with Alex Surcica, Horticulture Extension Educator and member of Penn State's Center for Pollinator Research.

Festival Activities will include:
• Bee Local Farmers' market with produce, honey, beeswax products & local foods including Brushwood Farm, Pretty Meadow Farm, Short & Sweet, Yeehaw Farm, Keswick Creamery, In a Jam by Maryann & many more!
• Informational booths of local nonprofits, organizations, beekeepers, and CSAs including South Central PA Buy Fresh Buy Local, Cumberland County Master Gardeners, Capital Area Beekeepers Association, PA Association for Sustainable Agriculture, and more!
• Children's activities, including the Pennsylvania Farm Bureau's Mobile Ag Ed Classroom with a hands-on lesson on pollination.
• A celebration of the conclusion of construction on two stimulus grants, coupled with a generous bequest from library patron Beatrice Kelley, bringing the library into the 21st century world of green energy! Get a firsthand look at Bee Local!

A complete listing of events, Farmers' Market vendors and products, and more will be available HERE in the coming weeks. Like Bee Local on Facebook!

Support Fredricksen Library & Local Foods!
Get ready for Bee Local @ Fredricksen Library, our first annual Honey & Local Foods Festival on September 17, 2011, by sporting a custom-designed tshirt! To celebrate the event, the Library has designed bee-utiful Bee Local tshirts. Proceeds from the sale of the tshirts will go to support the Festival, which promotes honey & local foods producers in our community. Tshirts are 100% white cotton featuring our Bee Local sunflower logo. Available in various sizes, limited quantities for $12.00 each at the Reference desk starting August 15.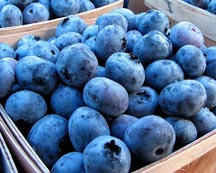 Blueberries & Books!
Fredricksen Library's first ever Blueberry Extravaganza was a smashing (no pun intended) success! The library pre-sold almost 300 of the 10-pound boxes of wonderful berries. Judging from the number of people who wanted more, next year should be even better. For every $30 box of blueberries purchased, the library received $10 in a tax-free donation from the buyer. Many patrons took advantage of our easy online order and payment system through PayPal. The library earned $3000 in this fundraiser and the sweet smell of blueberries filled our towns.
Legendary award-winning pie maker Ruth Walker-Foltz, age 81, used hers to make yet more blueberry pies, and wanted to know when she could "get another box!" Children's department employee Micki McCoy became quite creative; she added her blueberries to zucchini bread for a different take on an old favorite. Library supporter Jo Ann Cramer took the time to write to the library: "Enjoyed the blueberries--they were excellent!! A big thanks to everyone who helped. If you do it again next year, I'll plan to get 2!"
Many thanks to all of you who participated in this sweet fundraiser. Look for our blueberry signs again next spring!


Volunteer Scholarship Recipient -
John-Paul Heil!
The staff of Fredricksen Library has been donating $1.00 on Wednesdays so they can dress casual. The money collected funds a volunteer scholarship fund. We are so proud to announce this year's recipient, John-Paul Heil.
In November 2007, John-Paul Heil began to volunteer at the Cleve J. Fredricksen Library. John-Paul had recently turned twelve which was the minimum age to volunteer at the library. When John-Paul first spoke about volunteering at the library, he indicated he just loved the library. His interests included science, rockets and wanting to help his community.
Read more

September HOLIDAY CLOSINGS
Fredricksen Library - Sun., Sept, 4 & Mon. Sept. 5 - Labor Day- CLOSED
East Pennsboro Branch - Monday, Sept. 5 - Labor Day CLOSED
-

Get info on Sept., Oct. & Nov. events at Fredricksen Library -
DOWNLOAD the latest Patron Newsletter with detailed listings of ALL Fredricksen programs
and registration dates! DOWNLOAD The Patron.





Donate with PayPal


NOW – Donate to Fredricksen Library using PayPal, a safer and more convenient way to support your library! Fredricksen has partnered with PayPal to keep administrative costs down, and to ensure that the process of donating is a quick and safe as possible. Even if you don't have a PayPal account, it takes only a minute or two to quickly and safely give to the Fredricksen Library in any amount you wish. Thanks for your support of the Library!