Just Announced - Fredricksen Library Receives
2012 John Cotton Dana Award
Fredricksen Library is one of eight recipients nationwide of the 2012 John Cotton Dana Award presented by the American Library Association (ALA), which honors outstanding achievement in library public relations. The Library received the award for its program, Bee Local @ Fredricksen Library: A Honey & Local Foods Festival, a collaborative event designed to promote library services to the public. The John Cotton Dana (JCD) honor is considered the most prestigious of all library awards in the field of public relations.
In recognition of their achievement, John Cotton Dana award winners receive a cash development grant of $10,000 from the H.W. Wilson Foundation.
Kim Terry, John Cotton Dana Committee Chair, remarked that the "quality was outstanding."
"To be one of only eight libraries nationwide to receive this award is an incredible honor," said Fredricksen Library Director Bonnie Goble.
"Bee Local was a huge community success. We are grateful that the Festival, and our public relations effort, have been recognized as outstanding in the library field."
Fredricksen Library is looking forward to plans for the 2nd Annual
Bee Local @ Fredricksen Library on September 15, 2012.
American Library Association Press Release - Tuesday, April 24, 2012


Which eBook Reader is Right For Me?
Sunday, May 5 from 2:00 to 3:00 pm
Come and learn about a variety of eBook readers that are available and what things to consider when purchasing one. All ages welcome. No registration necessary.
eBooksHub @ Fredricksen adds more hours!
Now, every Friday from 1 to 3 pm AND from 5:30 to 6:30 pm, Reference Staff will offer a kiosk at the Fredricksen library entrance dedicated to helping patrons who have questions regarding Library System eBook downloads. Bring your device (setup and ready for downloads), and we look forward to seeing you at the "Hub"!


Farmer's Market Information Night
Thursday, May 3 at 7 pm
Please plan to attend our information night on the market, Thursday, May 3 at 7 pm in the Library's Atrium. Meet and greet the farmers, view the proposed market plans, the parking plans, and have all of your questions answered.
Read more and see related documents about the proposed Farmer's Market





Summer Reading Programs for all ages @ Fredricksen Library
& East Pennsboro Branch - Registration opens June 4 for all!
Children's Summer Reading Club: Dream Big – READ!
Packed with exciting performers and programs, this 9-week program will feature reading activities, with programs for children preschool age through 6th grade. Magic, Puppetry, Art workshops, The BUGMAN, Zoo America, Writing, Crafts and many other wonderful events are planned, with a family picnic rounding out the fun.
Beach Blanket Bingo @ Fredricksen! Adult Summer Reading Program
Join the summer fun as we continue our popular Adult Summer Reading Program this year! When you register, you'll receive a Beach Blanket Bingo card to lead you through your summer reading strategy. As you read or listen to your books, mark off the categories on your bingo card until you get 4 in a row. Each time you complete a row, BINGO - you get a ticket to put in one of our wonderful prize drawings! Register for the fun at the Reference Desk beginning June 4. The drawing for prizes will be held on August 27. 18 years and up, please. Beach Blanket Bingo Night! - Thursday, May 31 from 7:00 to 8:00 pm - Kickoff Adult Summer Reading with a fun night of bingo - with books as prizes! No registration necessary. Ages 18 and up only.
Teen Summer Reading Program
Weekly prize drawings, Weekly Challenges, Thursday afternoon movies, video game days, Magic, Hip Hop Dance, an interactive murder mystery, Hunger Games activities, crafts, and much, much more. Get complete details when you register.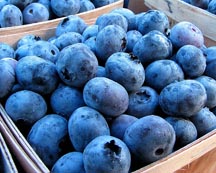 Order May 21
through June 29
@ the Reference Desk
or ONLINE with
PAYPAL payment

The Blueberries & Books Fundraiser is back! During May and June, the Fredricksen Library will be pre-selling 10 lb. boxes of fresh blueberries from New Jersey. It will be a fun and delicious way to kick off the summer, AND it will help the Library raise some extra funds! We'll also highlight some of our favorite blueberry and baking books and pull together some of our favorite blueberry recipes for you to enjoy. You can pre-order your blueberries starting May 21 at the reference desk, or order ONLINE from our website and pay securely through PayPal. Cost will be $30 per 10 lb. box. If you are ordering, please be aware that blueberries will be available for ONE DAY PICKUP ONLY due of lack of storage space to hold overnight. Check Fredricksen's website on July 2 for the specific date and time for pick-up - either on July 9th or 10th – depending on the harvesting season.