Fredricksen Library Loop 5K/Fun Run Walk
Saturday, July 28 at 8:20 am
The 7th annual Fredricksen Library Loop 5K Race and 1 Mile Fun Run & Walk will be held rain or shine on Saturday, July 28, 2012. Check-in and registration for both the 5K race and the Fun Run & Walk begins at 7 a.m. Start time for the 5K Race is at 8:20 a.m. and the 1 Mile Fun Run & Walk starts at 8:25 a.m. This important fund raising event will once again be held near Fiala Field in the Borough of Camp Hill, PA. Participation in the Fredricksen Library Loop continues to grow and is eagerly anticipated by both runners and walkers throughout Central Pennsylvania and beyond. Last year's event was a tremendous success, with over 300 runners and walkers participating. Cash prizes and trophies will be awarded for the top three male and female finishers in the 5K Race.
From July 1 through race-day (July 28th), the registration fee is $25 per runner. Only pre-registered 5K runners are guaranteed a race tee-shirt. From July 1 through July 28 registration for the 1 Mile Fun Run & Walk is still $12 per participant but does not include a tee shirt. As always, racers and walkers of all ages are welcomed and strollers are allowed on the walk route. Children under 12 must be accompanied by an adult.
Registration forms are available at the library or can be downloaded from our website. Call Jesse McCree at 761-3900 ext. 244 for more information. For a small additional fee, direct online registration is available at www.active.com. REGISTER ONLINE @ active.com or Download a registration form




There's still time to join the FUN - Summer Reading Programs for all ages @ Fredricksen Library & East Pennsboro Branch
Children's Summer Reading Club: Dream Big – READ!
Packed with exciting performers and programs, this 9-week program will feature reading activities, with programs for children preschool age through 6th grade. Magic, Puppetry, Art workshops, The BUGMAN, Zoo America, Writing, Crafts and many other wonderful events are planned, with a family picnic rounding out the fun.
REGISTER ONLINE NOW - Fredricksen REGISTER ONLINE NOW - East Pennsboro Branch
DOWNLOAD a Children's Summer Reading Program Listing
Teen Summer Reading Program
Weekly prize drawings, Weekly Challenges, Thursday afternoon movies, video game days, Magic, Hip Hop Dance, an interactive murder mystery, Hunger Games activities, crafts, and much, much more. Get complete details when you register. REGISTER ONLINE NOW - Teens
DOWNLOAD a Teen Summer Reading Program Listing
Beach Blanket Bingo @ Fredricksen! Adult Summer Reading Program
Join the summer fun as we continue our popular Adult Summer Reading Program this year! When you register, you'll receive a Beach Blanket Bingo card to lead you through your summer reading strategy. As you read or listen to your books, mark off the categories on your bingo card until you get 4 in a row. Each time you complete a row, BINGO - you get a ticket to put in one of our wonderful prize drawings! The drawing for prizes will be held on August 27. Register at the Reference Desk.


Tuesday Book & Media Mini Sales!
Tuesdays, July 10 & 17 - Lower Lobby
10 am to 5 pm
Support Fredricksen with your purchases of hardbacks, paperbacks, dvds and more. New items added each week! Stop in and shop for gently used books and dvds for all ages in the lower lobby.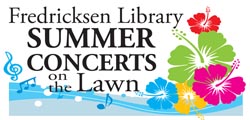 It's time for the Fredricksen's eighth annual Concerts on the Lawn series!!! All concerts are approximately an hour long and free to the public. Snacks and beverages will be sold during the events or you can bring your own refreshments with you! Make sure you bring a blanket or chairs to enjoy the music in the great outdoors. Concerts are held on the west lawn next to the lower parking lot. Additional parking will be available. Call 761-3900 x225 for more information. No registration necessary.



West Shore Symphony Orchestra
Monday, July 9 at 7:00 pm
Join us as we welcome back the West Shore Symphony Orchestra to our summer concerts! They will delight us, once again, with some great light classical works as well as the hits of Hollywood and Broadway. Fredricksen Library will have great snacks available to purchase, so bring a picnic and enjoy! (Rain date Tues., July 10 at 7:00 pm)
West Shore Symphony Orchestra



Lower Paxton Jazz Band
Tuesday, July 24 at 7:00 pm
Under the direction of the incredible talents of James Milbrand, this group has been performing throughout the area at various events since the summer of 2007. Their musical repertoire is focused on original big band recordings and also includes many current popular tunes set in the big band style. You will hear enjoyable selections with "audience friendly" music for everyone! Don't miss this energetic & fun addition to our Concert Series! No registration necessary. (Rain date: Fri., July 27 at 7:00 pm)
Caryn Lin: World Music - Tuesday, August 7 at 7:00 pm



Volunteer Scholarships Awarded
The staff at Fredricksen Library participates in a weekly dress down day. Each participant is asked to donate $1 toward a Volunteer Scholarship Fund. We are so proud to announce this year's recipients are Zach Bishop and Kristi Barr.
Zach has been a volunteer at the library since 2007, Kristi since 2008. Both have been a part of the library's Teen Advisory Group (TAG), which gives input and plans for teen programs. Through the years, both Zach and Kristi have displayed leadership qualities as the teen group worked together to make programming and budgeting decisions.
Through TAG, Zach and Katie also assisted in raising funds for the teen area in the library. Over the years they sold baked goods and passed out information at our summer concerts. They had fun and shared laughs while washing cars for a TAG fundraiser. They never hesitated to climb ladders and hang snowflakes to decorate the library for the holidays. They consistently helped box books after the Friends of Fredricksen book sales. Their volunteer work has been invaluable to Fredricksen.
Through the years, both Zach and Kristi have shown a respect and passion for their local library. Their passion has been contagious and brings out the best in all of the Teen Advisory Group. It has been a great honor to watch them grow and all the staff of Fredricksen Library wishes them great success for their futures.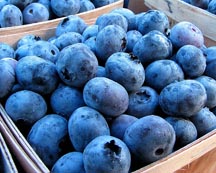 Blueberry orders can be picked up Monday, July 9 after 10 am
Please pickup near the lower parking lot, Walnut Street in the side lot. If you have ordered, please be aware that blueberries will be available for ONE DAY PICKUP ONLY due of lack of storage space to hold overnight.



July Exhibit @ Fredricksen Library
Front Lobby Display Case Exhibit
Ralph Ashwell - Mahogany Carvings from the Revolutionary War to the Vietnam War. Mr. Ashwell will also be available in the lobby for questions about his exhibit on Thursdays in July from 1 pm to 4 pm.